The tiny town of Tusayan offers the closest hotels to outside Grand Canyon National Park. Located 1.5 miles south of the Grand Canyon's South Entrance Station, Tusayan is sandwiched between Grand Canyon to the north and the Kaibab National Forest to the south. It's the only private property anywhere near the South Rim's popular sights. As such, Tusayan revolves entirely around Grand Canyon tourism, and its commercial district along highway 64 is filled with hotels, restaurants and the area's only gas station. Just south of the commercial district is Grand Canyon Airport, which offers scenic flights and private planes. Note: From Tusayan to the Grand Canyon Visitor Center it's about a 15-minute drive.
*Note: Some links on this page might use an affiliate link, which means that – at zero cost to you – I earn a small commission if you book a room or purchase a product. This in no way influences my recommendations, which reflect upon the honesty and integrity of my Grand Canyon guidebook. The commissions help pay for this website, which offers lots of terrific Grand Canyon information for free.
= Recommended
Tusayan Hotels – Expensive
Tusayan Hotels – Moderately Priced
Tusayan Hotels – Budget
Seven Mile Lodge (928-638-2291)
Plan the perfect trip to Grand Canyon!
Order Grand Canyon: The Complete Guide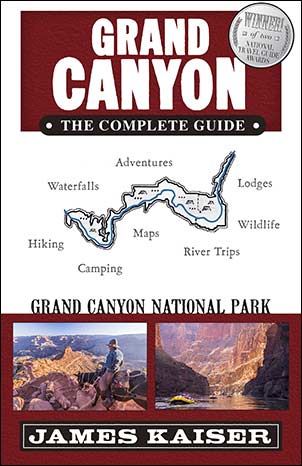 My award-winning, full-color Grand Canyon guidebook is filled with insider tips. Save time & money. Plan the ultimate Grand Canyon adventure!