To Grand Canyon visitors in the know, the word Havasu conjures up images of a remote desert paradise. Located about 35 miles west of Grand Canyon Village, Havasu Canyon is one of the most beautiful places in the Southwest. For over 700 years, it has been the home of the Havasupai, the "People of the Blue-Green Water," who derive their name from the vibrant turquoise stream that flows through the center of the canyon. Today roughly 450 Havasupai continue to live in the tiny village of Supai, located 2,000 feet below Grand Canyon's rim. Supai is near Havasu Falls and Mooney Falls—two of the most stunning waterfalls in America.
See also: Havasu Canyon Guide
*Note: Some links on this page might use an affiliate link, which means that – at zero cost to you – I earn a small commission if you book a room or purchase a product. This in no way influences my recommendations, which reflect upon the honesty and integrity of my Grand Canyon guidebook. The commissions help pay for this website, which offers lots of terrific Grand Canyon information for free.
Havasu Canyon Hotels
Havasu Lodge
This basic hotel, owned and operated by the Havasupai Tribe, offers the only overnight lodging in Havasu Canyon. It's the closest hotel near Havasu Falls, which is located two miles north of Havasu Lodge. The basic hotel rooms offer electricity, showers and hot water. There's no TV, but there is scattered mobile phone coverage if you have the right carrier. Havasu Lodge has no website (here's the tribe's official website). Call for prices and reservations. 928-448-2111 or 928-448-2201.
Havasu Canyon Campground
A large 200-person campground, located two miles north of Supai near Havasu Falls, is open year-round. Campsites are located on either side of Havasu Stream. A hand pump near the head of the campground provides drinking water and there are composting toilets. Reservations are generally easy to come by, except during peak summer season or on busy holiday weekends. (928-448-2141, 928-448-2121)
Hotels near Havasu Canyon
Hualapai Lodge
Hualapai Lodge offers the closest lodging to Havasu Canyon. It's located about 70 miles from Hualapai Hilltop (the start of the hike to Havasu Canyon), about an hour and forty minute drive. Hualapai Lodge is a large modern hotel with 60 rooms.
Grand Canyon Caverns Inn
Grand Canyon Caverns Inn is located about 90 miles from Hualapai Hilltop (the start of the hike to Havasu Canyon), about a two-hour drive. There are standard motel rooms, plus funky underground cave suites. There is also a private campground.
Plan the perfect trip to Grand Canyon!
Order Grand Canyon: The Complete Guide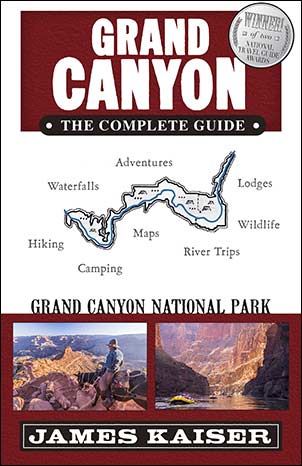 My award-winning, full-color Grand Canyon guidebook is filled with insider tips. Save time & money. Plan the ultimate Grand Canyon adventure!