*Mule Rides in Grand Canyon National Park adapted from Grand Canyon: The Complete Guide
Mule Rides in Grand Canyon National Park
For over a century, mule rides have been one of Grand Canyon's most popular activities. Everyone from Teddy Roosevelt to The Brady Bunch has descended the Canyon on mule, and while hardcore hikers would never dream of passing up a chance to hike into the Canyon, for many people mules are the only way to go. These sure-footed animals are fun, convenient, and offer a genuine taste of the Old West. (And did I mention that they do most of the hard work for you?)
Although less demanding than hiking, mule riding is still a physical activity. Riders must sit up straight on a moving animal for extended periods of time, which requires more endurance than you might think. And then there's the fear factor. Mules are incredibly safe animals, but they often walk terrifyingly close to the edge of the trail. Sometimes it seems like they're doing this intentionally just to taunt you with their amazing sense of balance. In other words, mule riding is not for the faint of heart. But despite a few mild challenges, most people have no problems riding mules, and many consider the experience to be great fun.
The South Rim offers both day and overnight mule rides. Day trips head east of Yaki Point along the new East Rim Trail. Overnight trips follow the Bright Angel Trail to the bottom of the Canyon, where riders spend the night at Phantom Ranch, a small lodge offering beds and home-cooked meals. Riders return the next morning via the South Kaibab Trail. Two-night trips are also available. Reservations for South Rim mule trips are accepted up to a year in advance, and they are highly recommended during the busy summer months. The North Rim only offers day trips, including trips along the rim and trips that descend partway down the North Kaibab Trail.
No experience is necessary for a mule trip, but riders must be at least 4 feet 7 inches tall (1.38 meters), speak fluent English so the mule can understand commands, and weigh less than 225 pounds (102 kg) for day trips along the South Rim and less than 200 pounds (91 kg) for overnight trips to Phantom Ranch.
Plan the perfect trip to Grand Canyon!
Order Grand Canyon: The Complete Guide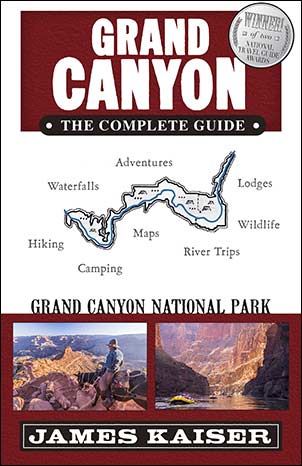 My award-winning, full-color Grand Canyon guidebook is filled with insider tips. Save time & money. Plan the ultimate Grand Canyon adventure!