Rating: Strenuous, Ladder
Distance: 2.5 miles, round-trip
Hiking Time: 2–3 hours
Elevation Change: 978 feet
The Precipice Trail Description
Rising nearly 1,000 feet up the sheer east face of Champlain Mountain, the Precipice might be the most challenging trail in the park. A jungle gym of iron rungs guides hikers up this sheer cliff, which offers thrilling ascents and tremendous views of Frenchman Bay.
Despite the hype, it takes more mental strength than physical strength to conquer the Precipice. Other than some exposed, 100-foot plus drop-offs and a few steep sections that require ladder-style climbing, the Precipice is no worse than many other challenging yet less-heralded hikes in Acadia.
Note: The Precipice Trail is often closed from mid-March to mid-August to protect nesting Peregrine Falcons.
The Precipice Trailhead
The Precipice Trail starts from the Precipice parking area alongside the Park Loop Road, two miles south of Sieur de Monts Spring.
Alternate Hiking Route
If you have a fear of heights—or if the Precipice is closed due to nesting peregrine falcons—you can still reach the top of Champlain via the 1.2-mile Beachcroft Path, which starts off Route 3. From the summit of Champlain, follow the North Ridge Trail and Orange and Black Path back to return to the Precipice parking area.
---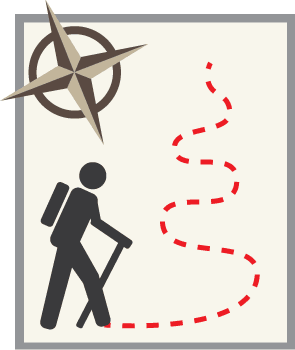 Looking for a Color Topographic Hiking Map of The Precipice?
There's one in Acadia: The Complete Guide!
---
Photos of The Precipice Trail
Enjoying early morning views on The Precipice Trail. Much of the trail is straightforward, but bridges and metal railings help hikers past challenging sections of The Precipice.
In places, hikers navigate narrow ledges with steep dropoffs.
A few sections of The Precipice trail include iron rungs drilled into the rock, forming short ladders.
After rising nearly 1,000 vertical feet, hikers near the summit of Champlain Mountain.
Enjoying the view from the summit of Champlain Mountain. Spread out below are the Porcupine Islands, which lie just offshore Bar Harbor in Frenchman Bay.
Plan the Perfect Trip to Acadia!
Order Acadia: The Complete Guide
The bestselling Acadia guidebook for over a decade.
Full-color and filled with insider tips.
Save time & money!