The small town of Virgin (population 600) is the start of Kolob Terrace Road, which rises 4,000 vertical feet through Zion's Kolob Terrace region. Kolob Terrace is home to The Subway, one of Zion National Park's most famous hikes. The region is also home to other great hiking trails, including West Rim, Northgate Peaks, and Hop Valley.
Virgin is home to a handful of hotels and campgrounds. Each October the town hosts the Red Bull Rampage, an extreme mountain biking competition that draws riders from around the world.
= Recommended
Virgin Hotels – Expensive
Virgin Hotels – Moderately Priced
Plan the Perfect Trip to Zion!
Order Zion: The Complete Guide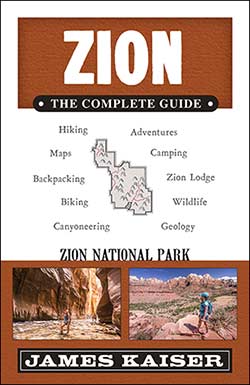 The #1 Zion guidebook.Full-color and filled with insider tips.Plan the ultimate Zion adventure!