Riverside Walk is one of the best easy hikes in Zion National Park. This one-mile paved trail, which starts at the northern tip of Zion Canyon, parallels the Virgin River until it reaches The Narrows.
Riverside Walk is a gorgeous introduction to the visual drama of The Narrows—without having to get wet!
Note: when flash floods are likely, the park closes Riverside Walk.
Riverside Walk Trail Facts
Rating: Easy
Hiking Time: 1.5 hours
Distance: 2.2 miles, round-trip
Elevation Change: 57 feet
Riverside Walk Trailhead
Riverside Walk begins at the Temple of Sinawava (shuttle stop #9) at the northern tip of Zion Canyon. Bathrooms and water stations are located next to the trailhead.
Riverside Walk Trail Description
From the trailhead at the Temple of Sinawava, Riverside Walk heads north along the banks of the Virgin River.
Sometimes when it's raining (or has recently rained) a beautiful waterfall tumbles down the cliffs to the left of Riverside Walk.
About 100 yards past the trailhead, a side trail veers off Riverside Walk to the banks of the Virgin River. This is one of my favorite places along the trail. Bubbling cascades tumble through the heart of the canyon beneath glowing canyon walls.
Continue on the trail as it heads deep into Zion Canyon. The further you go, the narrower the canyon becomes. Why does the canyon become narrower? Read on!
As you hike along Riverside Walk, you'll pass multiple springs and hanging gardens. Keep your eyes out for the elusive Zion snail—the world's second-smallest snail—which lives only in Zion National Park. Barely the size of a pinhead, the Zion snail has a streamlined shell and an unusually large foot-to-body-ratio, which helps it cling to rocks during flash floods.
Where Riverside Walk ends, The Narrows begins. You'll know you're there when the paved trail ends and the only way forward is through the Virgin River.
Why does The Narrows start here? Hint: it's the same reason Zion Canyon becomes wider and wider the further downstream you go.
The start of The Narrows is the point where the Virgin River stops cutting through Navajo Sandstone, which is relatively strong and forms the towering cliffs above, and starts cutting through Kayenta Formation rocks, which are much softer.
Because the Virgin River erodes Kayenta Formation rocks faster than Navajo Sandstone, the Navajo Sandstone is eventually left unsupported from below. Large chunks of Navajo Sandstone collapse and tumble into the Virgin River, where flash floods wash them away. As this process repeats itself, Zion Canyon grows wider and wider.
After taking some time to contemplate Zion's remarkable geology, head back the way you came along Riverside Walk.
Plan the Perfect Trip to Zion!
Order Zion: The Complete Guide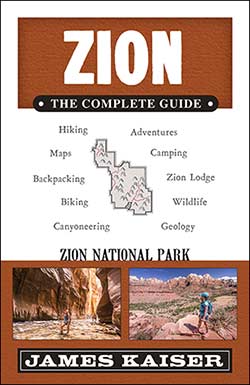 The #1 Zion guidebook.Full-color and filled with insider tips.Plan the ultimate Zion adventure!