The Pa'rus Trail is one of the best easy hikes in Zion National Park. Stretching nearly two miles from the Zion Canyon Visitor Center to Canyon Junction, it follows the Virgin River upstream towards the heart of Zion Canyon. As you stroll along the lush riverbank, stunning sandstone cliffs tower thousands of feet above.
The Pa'rus Trail is paved and wheelchair/stroller accessible. It's also the only trail in Zion open to bicycles and pets on a leash.
Pa'rus Trail Facts
Rating: Easy
Hiking Time: 1 hour
Distance: 1.8 miles, one-way
Elevation Change: 50 feet
Pa'rus Trailhead
The Pa'rus Trail starts just north of the Zion Canyon Visitor Center (shuttle stop #1), near a small bridge over the Virgin River.
Pa'rus Trail Description
From its start near the Zion Canyon Visitor Center, the Pa'rus Trail parallels the Virgin River just south of South Campground. A short distance past a turnoff for the Zion Human History Museum, the Pa'rus Trail crosses a bridge over the Virgin River and continues along the opposite bank.
From start to finish, the Pa'rus Trail crosses four small bridges. A handful of side trails descend to the water where you can enjoy bubbling cascades and small waterfalls.  Pa'rus (pronounced PA-roos) is a Paiute word that means "white foaming water."
The well-watered habitat along the Virgin River is called the riparian zone. It's one of Zion's smallest habitats in terms of area—but one of the most important in terms of life. The riparian zone's thick vegetation provides habitat for dozens of animals, from birds to small mammals, which enjoy easy access to drinking water.
Thanks to its lush vegetation, the Pa'rus Trail is terrific for birdwatching. Free "What's Flyin' in Zion" ranger walks are offered on the trail (inquire at the visitor center).
Canyon Junction
The Pa'rus Trail ends at Canyon Junction (shuttle stop #3). To the north lie the wonders of Zion Canyon. To the east the Zion-Mt. Carmel Highway twists up Pine Creek Canyon to East Zion.
The Canyon Junction Bridge is incredibly popular with photographers— especially at sunset. In the foreground, the quicksilver Virgin River. In the background, The Watchman illuminated by the setting sun. Visit in late October and cottonwoods shimmer with gold.
As sunset approaches, the Canyon Junction Bridge often fills to capacity. Tip: enjoy sunset along the Pa'rus Trail, which has similar views with a fraction of the crowds!
Plan the Perfect Trip to Zion!
Order Zion: The Complete Guide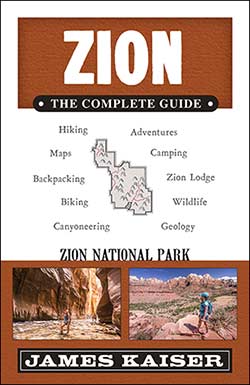 The #1 Zion guidebook.Full-color and filled with insider tips.Plan the ultimate Zion adventure!