Emerald Pools are three lovely pools that cascade through a beautiful side canyon in Zion National Park. Lower Emerald Pool is one of the best easy hikes in Zion Canyon. Middle and Upper Emerald Pools require a bit more physical effort, but you'll be rewarded with tranquil desert oases and dramatic views of Zion Canyon.
Emerald Pools Trailhead
The trail to Emerald Pools starts directly across from Zion Lodge (shuttle stop #5) in Zion Canyon.
Emerald Pools Trail Description
Lower Emerald Pool
Rating: Easy
Hiking Time: 1 hour
Distance: 1.2 miles, round-trip
Elevation Change: 69 feet
Lower Emerald Pool is a misty amphitheater reached via an easy, paved 0.6-mile path. Upon reaching the amphitheater, the trail wraps around curved cliffs dotted with dripping seeps and springs. Look for colorful flowers like shooting stars and golden columbine.
Delicate waterfalls trickle down from 50 feet from above. During rainstorms, however, theses trickles turn into torrents. The pools below were once tinted green by algae, but the emerald color has long since faded.
Middle Emerald Pool
Rating: moderate
Hiking Time: 1.5 hours
Distance: 1.7 miles, round-trip
Elevation Change: X feet
At the far end of Lower Emerald Pool's amphitheater, a trail ascends roughly a quarter-mile to Middle Emerald Pool, which feeds the dramatic waterfalls that tumble into Lower Emerald Pool. Enjoy the dramatic canyon views, but keep away from the slippery, exposed edge. Several people have fallen and died here.
Upper Emerald Pool
Rating: Moderate
Hiking Time: 2 hours
Distance: 2.2 miles, round-trip
Elevation Change: 269 feet
The half-mile trail to Upper Emerald Pool is sandy and strenuous, but the payoff is the loveliest pool of all. Upper Emerald Pool is fed by a 400-foot waterfall surrounded by sheer cliffs. Look and listen for tree frogs, whose curious mating call sounds like sheep.
Plan the Perfect Trip to Zion!
Order Zion: The Complete Guide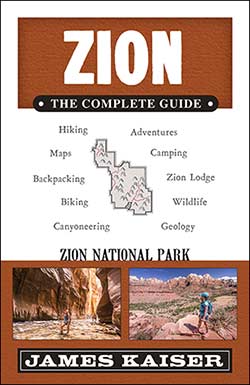 The #1 Zion guidebook.Full-color and filled with insider tips.Plan the ultimate Zion adventure!