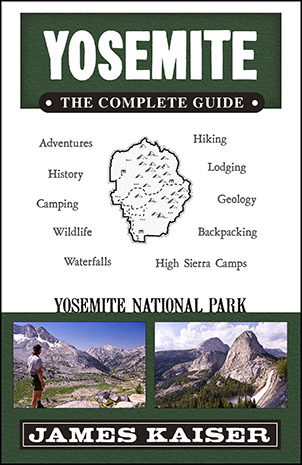 Filled with tips to maximize your trip!
Filled with gorgeous photographs, this full-color guidebook showcases the highlights and hidden gems of Yosemite National Park. From the thundering base of Yosemite Falls to the sparkling granite of El Capitan, Yosemite: The Complete Guide equips travelers with everything they need to make the most of their time in the park.
Fascinating background chapters on history, geology and wildlife bring Yosemite Valley to life. Detailed color maps make travel planning easy. Outdoor adventures are covered in-depth, including over 20 of Yosemite's best hikes. Fully updated with comprehensive travel information — including the new rules for hiking Half Dome.
Whatever your interests—driving to the spectacular viewpoints at Glacier Point, hiking to pristine lakes near Tuolumne Meadows, dining at the historic Ahwahnee Hotel—Yosemite: The Complete Guide puts the best of this iconic park at your fingertips.
"This guidebook was perfect. It included all the information you would want to know visiting Yosemite." —A. Raymond

• Filled with Travel Tips to Save you Time and Money
• Over 150 Color Photos
• Over 30 Detailed Maps
• Fascinating Chapters on Geology, History, Ecology and Wildlife
• Detailed Info on Hiking, Rock Climbing, Rafting and other Outdoor Adventures

"We LOVED this book. It was a great resource for our trip to Yosemite." —Victoria L. May
Distributed by PGW