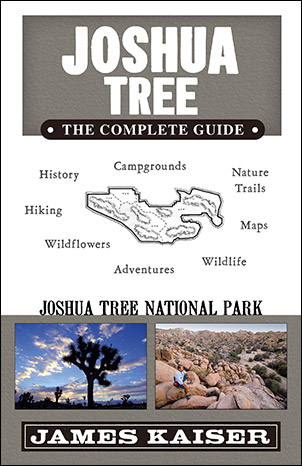 This full color guidebook showcases the highlights and hidden gems of Joshua Tree National Park.
Located just two hours east of Los Angeles, Joshua Tree is a desert getaway that boasts some of the most dramatic scenery in California. From the Wonderland of Rocks in the Mojave Desert to Lost Palms Oasis in the Sonoran Desert, James Kaiser shows you the best of Joshua Tree National Park. Explore vast forests of Joshua trees, hike to the top of Ryan Mountain and take in a beautiful sunset from Keys View.
Fascinating chapters on the region's history, geology, ecology and wildlife bring Joshua Tree to life. Detailed maps showcase over 20 of the park's best hikes. 
An indispensable guide for outdoor enthusiasts and travelers on a budget, Joshua Tree: The Complete Guide puts the very best of Joshua Tree National Park at your fingertips.
"This is easily the most engaging and informative guide book I've read. Worth every cent." —Marc Arndt

• The Bestselling Guidebook to Joshua Tree for Over a Decade!
• Over 100 Stunning Color Photos
• Over 20 Detailed Maps
• Fascinating Chapters on Geology, Ecology, Wildlife and History
• Detailed Info on Hiking, Rock Climbing and Other Outdoor Adventures
• Filled with Travel Tips to Save you Time and Money

"If you're even slightly curious about Joshua Tree, definitely buy this book." —Tony M.
Sample Pages
Distributed by Legato Publishers Group, a PGW Affiliate